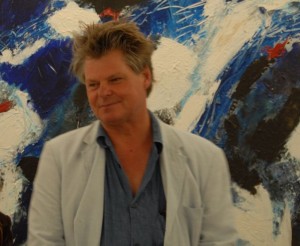 Rooth started his career as a ceramicist in 1973. In 1978 he lived and worked in Paris in the studio of Albert Diàtó. (ceramicist and painter).For him it was but a small step from creating ceramic tableaus to painting on panels and ultimately onto canvas. His paintings are built up of oxides and sand, an effect left over from his ceramic period. His work is called abstract expressionism, yet has figurative elements.
His desire to make the invisible, visible is at the heart of his work. He emphasizes the apparently unimportant details of life, lights them up and freezes them in time. That is what makes them visible. Realism, as in photography, is sometimes his underlying vantage point for creating an abstract image, a production design, a film, or a television drama. Marco's work radiates his own astonishment and a special way of viewing the world. Memories, emotions, reflections or perhaps a mix of all of these are responsible for creating the new images. Currently, Rooth is working on new exhibitions in Amsterdam and Portugal.
Marco Rooth has had several shows in The Netherlands and abroad including (o.a. W139) | Moskou | Florence | and in Caminha (P). as well as solo-exhibitions in Amsterdam | Haarlem | Delft | IJmuiden | and in Portugal: Porto | CoÏmbra | Serpa | Ponte de Lima | Maia | Caminha.