NEW IN DECEMBER:  Click on our NEWS page for our column:
SANDRA DEN HAMER, director EYE Film institute, addresses and inspires students of Hyperion Lyceum to follow their passions and go after their dreams ! 
Team Building Incentives        
Interested in a coffee workshop  with your staff on a moving tram?  Yes?  Have you ever been on an art walk with colleagues, clients or board members? No? That is because open studio weekends never take place on weekdays.  For us a good reason to be open by appointment, on weekdays and evenings and all year round. We gladly cater to the needs of businesses who are looking for inspiration and art work.  We custom make parties to suit you at times suitable to you.
DAT Gift Card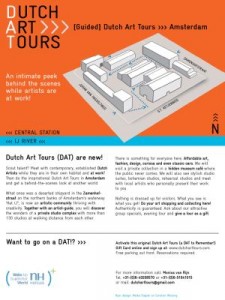 GIVE A TOUR AS A GIFT TO A FRIEND WHO GETS TO INVITE A GROUP OF FRIENDS!
The tour is an inspiring, fun and unique gift alternative with a high degree of originality. Do you find it difficult to chose art work for another?  Then give a tour and they get to choose according to personal taste! Dutch Art Tours bring you in touch with artists, thereby enhancing the value of what you like already.  Give a friend the tour and that person can invite a group along.
Surprise your clients!

DAT is a perfect surprise for loyal clients, an inspiring get together for co-club members or a pleasurable artistic gathering for staff incentives. You will see plenty of affordable contemporary art in all shapes and sizes. We gladly tailor a tour for any special occasion. A Dutch Art Tour is a great gift for a wedding, birthday or a thank-you, etc.
Private tours available upon request.