We call the Zamenhofstraat in Amsterdam the SOHO of Amsterdam (like the SOHO of NYC) because of its inspiring waterfront location. What once was a deserted shipyard is now full of creativity. On our walk, we see the river HET IJ and the skyline of the city center.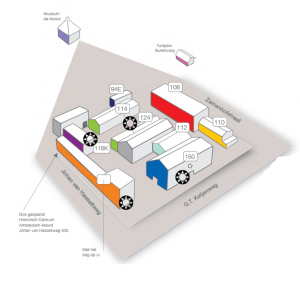 A prominent industrial facility within view is directly opposite a large gardening complex and a picturesque park with houseboats and waterways.   There are all kinds of studios here, all at walking distance from one another. Some are bohemian and private, and some are studio suites with amazing views. We are a 15 minute walk (or bike ride) from the ferry boat. (which you can take from behind Amsterdam Central Train Station)
If you come by car, there is still free parking here!