Morning Tour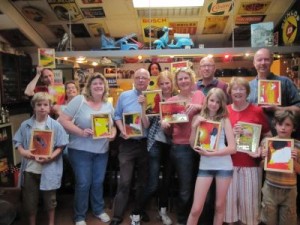 A two and a half hour guided studio tour tour including coffee or tea from 10 a.m. -12:30 p.m.
Your artist- guide will meet you at a  designated spot on the Zamenhofstraat in Amsterdam  North. We then walk to several of the neighboring studios to meet with the artists, designers and performers at work. After a short walk to the inner area, we visit a memorable private museum collection and the museum café tucked away in the heart of this unique complex.
Autumn Specials for the Art Tourist:  One hour mini tour including coffee and tea
By appointment only and available at short notice:  What you see is what you get. You will visit our party tram from the sixties and our collectible museum followed by coffee with an artist at work in her/his studio.  You can see demonstrations, the private stock collection, and exchange ideas.  Original and unique authentic art work can be purchased straight from the artist.
A two and a half hour guided candlelight tour is by appointment only from 8:15 pm to 10:45 pm
This intimate tour includes artists who work in the evenings like: performers rehearsing, surprise 'Mystery guests', live bands at work, and more. In our café bar we serve cheese, French bread, fruit, wine, soda.  We custom make a party to suit your wishes.
In our private underground museum café bar  we welcome you and your group for drinks and snacks upon request…. Or let the event be catered to fit your needs from 17 through 19 hours.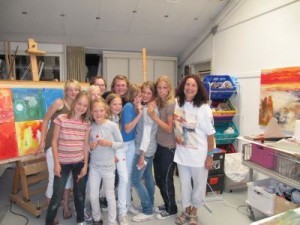 One-hour workshops are available upon request. Many of our visitors seem itching to create, so we offer an additional hour to complete your DAT experience by attending a one-hour workshop
whereby you create something together with an artist and get to take your artwork home!